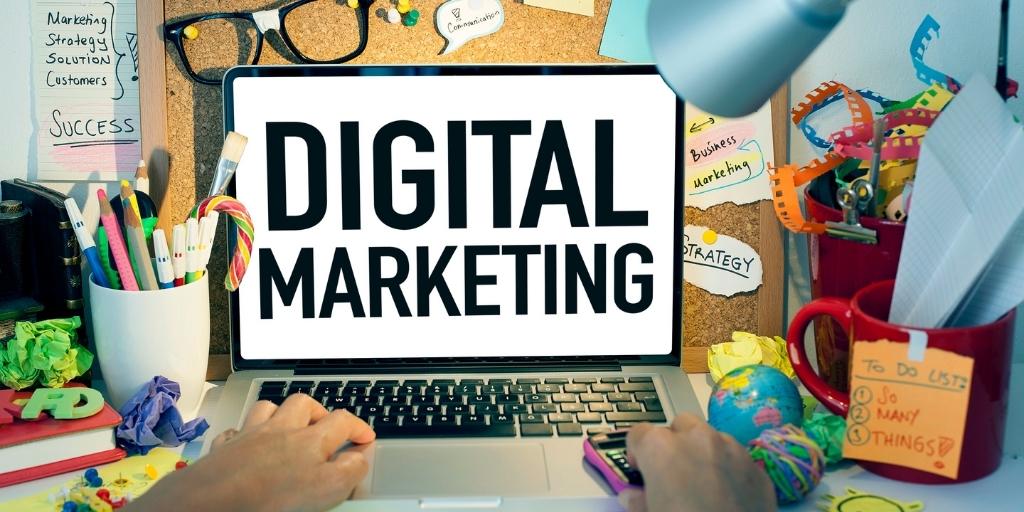 When looking to improve and grow your online presence it's time to understand why digital marketing is important.  When small businesses start out, they focus on getting initial clients. They might rely on traditional marketing techniques like print ads, coupon mailers, or even outdoor marketing. Some companies believe that if they offer high-quality products or services, customers will eventually find them.
Although this strategy might only bring in a handful of customers, there is a better and simpler way. Small businesses should take into account the global marketplace of prospects online. Converging traditional and digital marketing strategies can benefit small firms by exposing them to a wider audience of potential customers.
No business, no matter how new, should ignore digital media as a means of generating leads and converting them into consumers. Let's analyze how digital marketing can assist your company expand and what role various online mediums can play in that process.
What Is Digital Marketing?
Digital marketing is Internet-based marketing. Digital advertising will let you attain a much broader target market and appeal to potential buyers. It's also cheaper than traditional marketing. Plus, you can evaluate your results and adjust your marketing efforts as needed.
Connecting with your target market on a regular basis at the appropriate time and place is essential for efficient marketing. When consumers have a lot of screen time, the ideal place to meet them is online.
Companies all over the world profit from this fact. They are utilizing successful tactics for digital marketing to increase the likelihood that their marketing efforts will be successful in reaching clients, which will, in turn, result in major financial gains.
Why is Digital Marketing Important Today More Than Ever?
More than half of the world's population uses the Internet, with 80% of those users residing in the United States. With so many people online at the same time, businesses need to adopt effective digital marketing strategies to succeed.
The growth of online-only businesses also means that digital marketing is now the primary method of advertising for many businesses. Also, online marketing is usually cheaper, but you get more results. Businesses looking to advertise new products can get better results with targeted online marketing campaigns than with expensive billboards that reach a limited audience.
Organizations and businesses can find new and exciting methods to expand their reach, raise their revenue, and strengthen their bonds with current and potential customers by utilizing the opportunities presented by digital marketing strategies. Small organizations can use virtual advertising to enhance their corporation and extend with fewer resources.
Why Digital Marketing Is Important For Business Owners
Digital Marketing Strategies Are Affordable
Even major organizations with big marketing resources must be careful. The accuracy and low cost of these strategies are one of the main advantages of digital marketing. Email, social networks, and Search – engine content marketing cost a fraction of print and Television commercials.
Digital marketing techniques not only have the potential to be more economical but also frequently have enticing returns on investment for business owners. In fact, content marketing is 3 times more affordable than certain conventional marketing strategies.
Furthermore, 13 times more marketers will get a favorable return on investment when they continuously create useful and pertinent blog content.
Email, social media, and SEO-driven content marketing can help businesses reach their target audiences for much less money than traditional advertising mediums like print media, radio, and television.
By using inexpensive digital marketing strategies for some campaigns, business owners can save money while still having money to spend on other initiatives that might need more expensive traditional marketing materials.
These practical and economical digital marketing techniques ultimately assist companies in making the most of their marketing budget.
More Targeted Audience Reach
When you buy a newspaper ad, your audience is subscribers. If you are given a time slot on a channel, people who watch that particular channel at a particular time for a particular show are considered to be your audience.
Although certain demographic breakdowns may be identified based on the medium, in many instances, when using more traditional channels, you do not have the opportunity to tailor your messaging to specific audiences. For example, an 18-year-old and a 55-year-old need to buy groceries, but are they responding to the same ads?
Targeting specific demographic groups based on age, gender, income, location, occupation, and areas of interest can be accomplished using digital marketing channels at no extra expense. If you are unsure of the demographics of your target audience, you may learn a great deal by using the free analytics tools provided by platforms like Google and Facebook.
Brand Awareness
You can build a global online reputation by promoting your business on social media sites like Instagram, Twitter, Quora, and Facebook as well as search engines like Google, Bing, and Yahoo.
You may increase awareness of your business and its USP (Unique Selling Proposition) with the use of digital marketing.
Customer conversions cannot be made if they are unaware of your brand. Brand presence is crucial for addressing this. Pay-per-click advertising and other paid promotions can drive a lot of traffic to your small business.
Increased Engagement
Increased engagement is one of digital marketing's most important advantages. Digital marketing is intentionally designed to be highly engaging. Users can share blog posts, like photos, download videos, or click paid ads on your website.
The fact that you can analyze all these actions is the best part. As a result, you'll be able to make even more interesting content to increase reputation and profits for your business.
You can draw more devoted customers online the more you interact. Effective internet marketing techniques that incorporate engaging formats are more likely to turn casual browsers into loyal customers.
Speed
The time it takes to get printed materials produced and distributed is so much longer than digital media production and distribution which allows businesses to be much more dynamic with their communication.
Twitter posts and updates on websites take minutes compared to days to design and print flyers.
Electronic newsletters can be created and managed as they are sent, and you can monitor who opens them, but newspaper ads can take a week to appear and you never know the exact number of people you've seen them.
Digital Marketing Is Measurable
Impressions, shares, views, clicks, time on page, and other metrics that matter to your business can be drilled down from start to finish with digital marketing. Traditional advertising may be good for achieving specific goals, but its major drawback is that it is difficult to quantify the results.
Unlike offline marketing strategies, digital marketing allows marketers to see accurate real-time results. Anyone who has ever placed an ad in a newspaper knows how difficult it is to determine how many readers actually turned the page to read the ad. It is unclear how to tell if this advertisement was a factor in the transaction.
However, with digital marketing, you can track the success of every single one of your campaigns.
Your Competitors Are Doing It
Examine what other businesses in your industry are up to so you may learn from their strategies. You can utilize your knowledge to develop more effective marketing plans than your rivals in order to draw more visitors to your website.
Marketing experts make use of the digital marketing tools that are available online and make use of such resources for their online marketing platforms.
Many of these resources can be used by companies to monitor their rivals. You will learn about the various brand-building initiatives they are running.
Conclusion
Due to its psychological effects on your customers, digital marketing's significance and potential future applications cannot be overlooked.
In order to better understand items and client preferences, this encourages interaction between vendors and buyers. As a result, the seller-buyer community is strengthened.